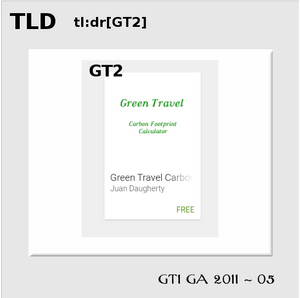 Green Travel 2
Personal Environmental Responsibility Domain
GT2 is an Android and iOS app and archetype of and for my various infrastructure and development packages . The base app is free on Play and App Store, with cloud  services sold in-app or later via the production store here. The complete sources and development support are accessible with First and Second class capitation, respectively which has the same pricing basis as this. Versions thru 2.0.8 are on github.
This app has origins in the 2011 Green Travel Carbon Calculator was little more than a test of GPS on Android, the purpose for which it was originally created in fulfillment of a petty craigslist gig for someone unable to do same to a local NRDC branch in the Boston area.
Versions 2.n form a distinct line of development from the 2.0.8 baseline which runs in the commons app, also free but with services provided according to AKPERSON entitlement level.