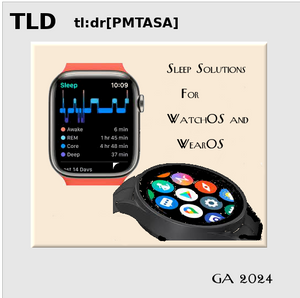 TLDR Sleep
TLDR Sleep, an application of my Personal Motion Tracking Application (PMTA) core, is a uniform sleep application that tracks sleep stages on Apple Watch (watchOS 10) and Galaxy Watch (WearOS 4). Intended to be first in a Solutions Series.  Infers sleep stages from motion and heart rate and other sensors.

Basic app with manual operation is free and provides a basic sleep solution for both platforms. Feature entitlement is available to AKPERSONs per their capitation class. The app is  sold thru the hardware vendors 3rd party app stores. The generic android app is only available for developers for specific devices other than Galaxy.
Besides basic manual tracking of single sleep offers these solutions
o More than 1 sleep period in a day.
o Automatic recognition of sleep period of more than 30 minutes.
o Option to add to platform health data or app/cloud private.